Cresting researcher Santiago Perez has won second place in the « best path to action » award by the AScUS (un)conference held from the 3rd to the 5th of June, 2020. The conference was organised by the Sustainable Urban Systems section of the International Society for Industrial Ecology in partnership with Metabolism of Cities and the IE University in Segovia.
In partnership with Mercedes Quesada-Embid, Associate Professor at the Catawba College (North Carolina, US), Santiago directed a 3 hours session on the perceptions and actions towards transdisciplinary research for generating environmental and social justice.  The outcome of the session, or « path to action », consisted in the creation of a podcast.  The objective is to generate an open space to discuss how academics and practitioners conceptualise the concept of justice, how they use it in their projects and what are the steps they propose to make our realities more just.  Opening science to the general public is a must for both Santiago and Mercedes.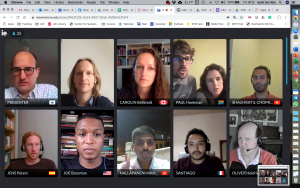 The podcast is called « Just Realities: the podcast that explores the concept of justice » and it can be found in all available platforms.  The first episode is a conversation between Santiago and Mercedes where they engage in a conversation inspired by the results of the session proposed at the AScUS conference. The session, called "Integrations of Justice in Transdisciplinary Research: Towards New Sustainable Paradigms and Meaningful Advocacy" explored how sustainability aligns with transdisciplinarity and how distinct fields of study have the capacity to be strongly connected to advocacy work for positive social change.  In the episode, Santiago and Mercedes reflect on the current state of legitimacy of knowledge production to the means to advocate towards more just realities.
The podcast is an ongoing project directed by Santiago.  So far, he has released 5 episodes exploring topics from just energy transitions in Turkey to a real case study of a design company working on circular products.  The podcast is an open opportunity for early researchers to practice they abilities as hosts, and/or showcase their research.  One of the objectives of the podcast is to have all the ESRs (Early Stage Researchers) of Cresting in the podcast.