The 3rd workshop of the MCSA-ITN EU funded project titled "Circular Economy: sustainability implications and guiding progress (CRESTING)" was held between 22nd – 27th of September in Lisbon, organised and hosted by Center for Environmental and sustainability research (CENSE) and NOVA School of Science and Technology.
It began with each of the 15 Early Stage Researchers (ESRs) from 8 universities across Europe, presenting the progress made in their individual research positions.  Following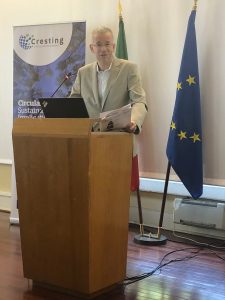 this, the ESRs presented draft papers for review and feedback to the group, during an intensive academic writing workshop.
With the central theme of the workshop being "Public sector and the Circular Economy (CE)", invited speakers such as Inês Costa and Elisa Vilares from the Portuguese Ministry of Environment and Energy Transition, Natanael Cartaxo from the Ministry of National Defense and Sofia Cordeiro from Lisbon Municipality all presented the achievements and challenges of various levels of the Portuguese public sector in regard to CE related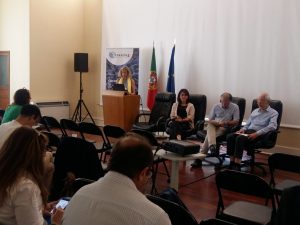 activities and initiatives.  In addition, Cristina Rocha, researcher from CENSE, explained several circularity initiatives like projects and practices with the private sector. In addition, a round table on Leadership in the Circular Economy and the role of private vs. public sector took place with some members of the Cresting advisory board such as Dr Carmen Jaca, Dr Walter Stahel and Andrew Woodend.
The workshop concluded with an excursion to the Esporão winery to showcase practical examples of circularity efforts in Portugal.  Additional activities of the workshop included training sessions on participatory research methods, including visioning, with the participation of Rita Lopes and Pedro Clemente from CENSE, and design thinking with Gulherme Victorino from NOVA IMS.