During May and June 2019, Anna Diaz (ESR 2.2.) participated in the circular economy (CE) learning programme offered by the Ellen MacArthur Foundation (EMF) "From linear to circular".  The objective of this program is to provide a global community of practitioners with cutting-edge C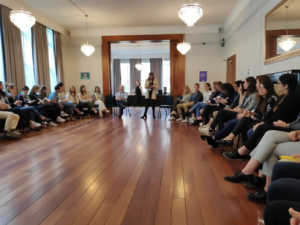 E knowledge and skills and bring together an international network of young professionals of the field.  The learning programme consists of two core elements: the development of a CE project through online collaboration and attendance at a 3-day immersive workshop in London, UK.
The collaborative project developed by Anna's team focused on the design of a coffee on-the-go circular system for subway commuters.  The initial team ideas were further cemented in a design thinking session run by IDEO combined with feedback from mentors.  The workshop days were full of outstanding sessions, such as a Systems Thinking lecture by Ken Webster, discussions on the foundational values of the CE, parallel sessions run by EMF experts on key topics and a hands-on biomaterials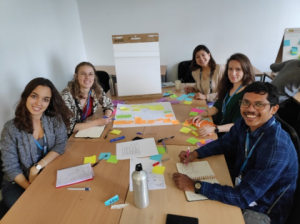 session offered by Materiom. The immersive workshop days posed great networking opportunities, not only among the ca. 40 pioneers, but also with plenty of invited international experts.
The participants also had the chance to attend the foundation's flagship event, the Annual Summit.  This full-day event included numerous keynote speakers sharing their involvement in CE practices.  The connecting thread among the different sections of the event mimicked the process of transitioning towards a CE by building CE momentum, mapping initiatives and finally facilitating scale-up.  Accordingly, strategic sustainability managers from big multinational companies (Renault,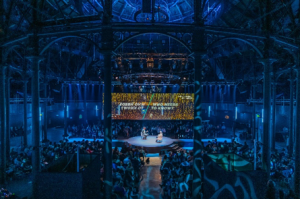 Philips, Unilever, Adidas, among others) intervened, together with companies showcasing their circular business models (Riversimple cars, Gerrard Street, Vigga or Toast Ale), scientists (Joaquin Ruiz, Biosphere 2) and design and communication agencies experts (IDEO, Condé Nast).
Anna's participation in the programme was a unique opportunity to join a global discussion, in which the foundation plays the essential role of knowledge provider and facilitator of constructive dialogues, sometimes participated by actors that expect divergent outcomes from the CE.  From a CRESTING ESR (Early Stage Researcher) perspective, it added a lot to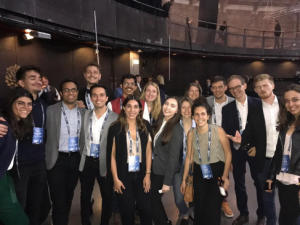 an already on-going reflection on the position ESRs want to take in this transdisciplinary debate.  The transition towards a CE involves a wide range of actors from different bodies of knowledge and different values and thus, finding complementarity among them is key to overcome their own limitations.  While a bias for action is needed, there is also the need for providing CE decision-makers with fact-based knowledge and usable decision-support systems to prevent rebound effects.  This reinforces the core transdisciplinary approach of CRESTING, which aims at developing scientific knowledge together with diverse societal stakeholders.  All in all, the experience at the pioneering programme of EMF resulted highly enriching and we are looking forward to follow-up on this and more transdisciplinary collaborations.