The ISDRS (International Sustainable Development Research Society) was hosted by the School of Environment at Nanjing University, China.  The conference theme 'Sustaining Resources for the Future' provided an ideal platform for ESRs to share their
initial research results.  Topics ranged from literature reviews on the concept of the CE (Circular Economy) to trans-disciplinary methods for discovering symbiosis in a given territory and discussions about the role of the global south towards circularity.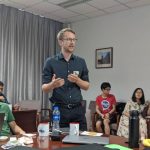 Kieran Campbell-Johnson, Kaustubh Thapa and Martin Calisto Friant presented on the circularity of extended producer responsibly systems for tyre recycling in the Netherlands.  The researchers critically examined the circular economy implications of tyre recycling practices.
In addition, Kieran delivered a presentation on his research project, where he outlined a research agenda for the post-collection uses of secondary materials within a circular economy.
Erik Roos Lindgreen presented some work in progress: an inventory and classification framework of available CE evaluation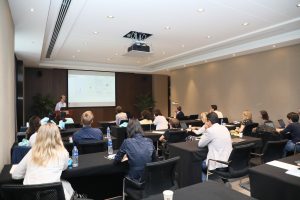 approaches at micro level.  The conference provided a great opportunity to connect to a diverse group of researchers working in this increasingly popular field, receive feedback, and discuss strategies for impact-oriented sustainability research and potential scientific collaborations.
Nearly 300 participants from all over the world met during the conference and discussed how to make the world more just and sustainable. The Cresting ESRs were very active networking with the multiple stakeholders present at the conference.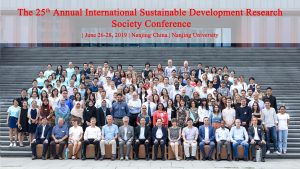 This has brought varied opportunities for ESRs such as participating in other research networks, collaborating in the writing of papers, and opening the possibility for future academic and personal development around the world.
Participants also had a first-hand experience on what China as a country is doing regarding the UN SDGs (Sustainable Development Goals), as well as China's particular approach to sustainability.  ESRs took part in a tour demonstrating local achievements of the Ecological Civilisation national project.  They travelled to the Lishui District where they participated in the 'Healthy Lishui International Summit'.  Local authorities, including the mayor of the district, engaged in conversations with local and international academics on different aspects of sustainable development.
At the closing ceremony, researchers Martin Calisto Friant and Santiago Perez, were awarded the 'Best Oral Presentation Awards ISDRS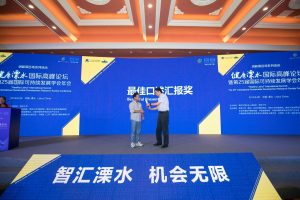 2019', wrapping up the experience of the Cresting team with exciting results.