Earlier this month members of the Cresting Team travelled to New York and Washington D.C. to be part of International Sustainable Development Research Society expert panel providing thought provoking discussions on how the Circular Economy might contribute to meeting the UN's Sustainable Development Goals. The visit helped to establish connections with researchers and policy makers interested in the circular economy.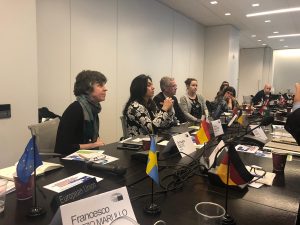 The team presented to a specially convened event at the United Nations, hosted and introduced by Ms. Wenyan Yang, Chief, Global Dialogue for Social Development Branch, UN Department of Economic and Social Affairs Division for Inclusive Social Development (second from right in above picture).  Prof Chris Dickey, Director of Global Health, NYU College of Global Public Health, also spoke (second from left in above picture).
A second policy-focused event was held at EU Parliament Liaison Office in Washington DC (left).  Here the team presented approaches to CE research including life cycle analysis, public sector/sustainability indicators, and geographic/social approaches. The audience comprised representatives of several member states' EU delegations. Prof Victoria Kiechel, architect in the American University Global Environmental Politics Programme, moderated the session.
Professor Roberta Salomone commented "It was a wonderful opportunity to share some of  the team's research issues with a new audience. In the field of Circular Economy (CE), Roberta Salomone introduced the specific research topic concerning the measurement of the impacts of a CE (or the progress towards a CE) with a focus on the micro level. She highlighted that many open questions and disagreements still emerge in literature and proposed the Life Cycle Assessment (LCA) method as a suitable and effective method that businesses can implement to start a commitment towards CE, also providing some provoking examples of comparison between circular metrics and LCA results".
At the New York University the team presented to students, primary from the Stern Center for Sustainable Business and the College of Global Public Health.  The panel was introduced by Prof Tensie Whelan Director, Center for Sustainable Business and Prof Chris Dickey.  Discussion with staff leading the research, teaching and administration of sustainability was held at George Washington University, Washington DC.
These events were organised by the European Union Association in cooperation with the International Sustainable Development Research Society (ISDRS), New York University, the United Nations Department of Economic and Social Affairs (UN-DESA) and the ASEM-UN NGOs group.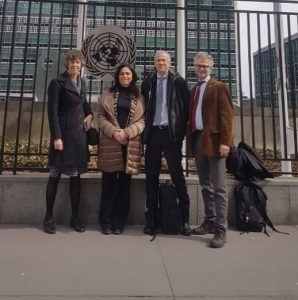 The Panel comprised (from left to right in the picture to the left) Dr Pauline Deutz, Reader in the Department of Geography, Geology and Environment, and president of ISDRS; Professor Roberta Salomone, Department of  Economics, University of Messina; Dr Tomás Ramos, Centre for Environmental and Sustainability Research, School of Science and Technology (CENSE), NOVA University;  Prof Peter Dobers from Södertörn University in Sweden, and vice president of ISDRS.  In addition, Prof Zengwei Yuan, Nanjing University (Cresting partner and host of ISDRS conference 2019) had intended to join the group, but did not receive a visa to visit the US.    His research and the Nanjing conference were briefly introduced by the other panel members.