Recruitment of ESRs for the Cresting Project has now closed.  We are no longer accepting applications.  Thank you to all of the candidates who expressed an interest and applied.   
Funded as a Marie Skłodowska-Curie Educational Training Network, CRESTINGS primary purpose is the training of early stage researchers (ESR) in research and readiness for employment relating to the Circular Economy.  Therefore, we are looking to recruit 15 highly qualified and enthusiastic ESRs to join the project and thereby study for a PhD. This project is an ideal opportunity for suitably qualified individuals looking to do a PhD relating to the Circular Economy.  The overall project is divided into 15 specific three-year research projects, each hosted by the first supervisor's university.  Each ESR also has a co-supervisor from a different disciplinary background and in a different country to their first supervisor.  ESRs will spend time at the co-supervising University, as well as on secondment with other partner institutions.  CRESTING therefore comprises an outstanding opportunity to gain knowledge, experience and build a personal network across different countries, academic fields and employment sectors.
The list of ESR projects can be seen here under their respective work packages.
How to apply
Your application should comprise your CV and a covering letter.  The letter needs to explain:
How you meet the essential criteria (and desirable, if relevant); and
Why you are interested in this opportunity.
Note:  If you are applying for more than one of the 15 posts, please indicate your order of preference in your covering letter.
Include with your application:
The names and contact details of three referees (at least two of these should be from someone with direct knowledge of you academic abilities; the third could be from an employer);
A copy of your passport (photo page); and
A copy of your highest degree certificate.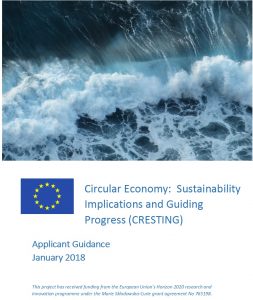 There is an applicant guide that provides further details, including the eligibility requirements, job description and person specification.  We recommend that all applicants review the information in the Applicant Guidance.
Shortlisted candidates are likely to be interviewed by skype/video conference.
Please email cresting@hull.ac.uk if you are uncertain of your eligibility to apply.
Please send your application to cresting@hull.ac.uk.
The closing date for applications is Midnight (UK time) on the 28th March 2018.
Eligibility guidelines*
An ESR can come from any country in the world (except those subject to EU sanctions).  However, the funding for this project comes with some important constraints which must be met:
Mobility: at the time of starting work, an ESR cannot have resided or carried out his/her main activity (work, studies etc) in the country of his/her host university for more than 12 months in the previous three years. For example, regardless of country of birth, if you have just completed a degree in the Netherlands, you would not be eligible for any of the posts based in the Netherlands. However, you would be eligible for a post based in one of the other countries, even if it included a secondment in the Netherlands. Conversely, a Dutch national who had just completed a degree outside the Netherlands, would most likely be eligible for a post hosted in the Netherlands. Documentary evidence of residence will be required before confirming appointment.
Visa: if you come from a country outside the EU, your recruitment would be conditional on the country hosting the relevant post granting a visa. You must take up residence in the country hosting your project, and you must be able to reside in the countries specified for secondments. Note that the recruiting university would support and pay for the visa application.
ESR: must have no more than four years research experience following the point at which they became qualified to study for a PhD under the rules of both the country of institution the where they will be hired or where they studied for their qualifying degree. In some cases a masters degree is a requirement for commencing a PhD.   In other cases, although a masters degree advantageous, only a bachelors degree is formally required. ESRs cannot already have a PhD.  Documentary evidence of research experience will be required before confirming appointment.
Employment: ESRs are members of staff at the institutions where they are studying for their PhD. The responsibilities of the posts include attending project workshops, undertaking relevant training, engaging in communication and dissemination activities, contributing to the reports required for the project. All ESR must work full time on their project.
Salaries for the ESR are mandated by the European Commission. They include a generous mobility allowance (as all ESR will have moved country to take up their appointment). ESR with dependents at the time of recruitment are entitled to an additional family allowance. Salaries are adjusted according to the relative cost of living for the host country at the time of the grant application (January 2017).
The project includes a generous allowance for research costs, attending project networking events, conferences and other relevant expenses at the discretion of the supervisory team.
Network fellows (ESRs) must demonstrate that their ability to understand and express themselves in both written and spoken English is sufficiently high for them to derive the full benefit from the network training. Non-native English

speakers are required to provide evidence of English language competency before the appointment is made.

An IELTS score of 6.5 overall (minimum 6 in each skill), or equivalent, is the minimum requirement.

The following link provides advice on which countries are considered native English speaking by the UK visa authorities and a guide to acceptable qualifications on English as a foreign language.  Please note, however, that for this project we are looking for candidates to exceed the minimum visa requirements in this regard.
* This list should be seen as a guide to the rules, not an official statement.